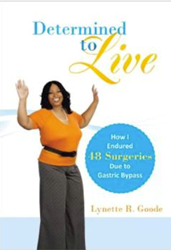 RICHMOND, Va. (PRWEB) November 25, 2014
"If you believe it, you can achieve it." This mantra lead Lynette R. Goode to shed nearly 200 pounds due to gastric bypass.
Goode encountered multiple complications due to the gastric bypass procedure and was forced to endure more than 48 surgeries to treat compounding medical issues. She offers an inspirational and a chilling account of her story in the newly published memoir, "Determined to Live".
"I'd decided that I'd had enough," Goode said. "It was time to take back my life, one step at a time. Once I'd conquered my own demons, it was time to give back to others."
Goode is now a motivational speaker and the founder of a nonprofit called DEON Intervention Incorporated. A 501(c)(3) dedicated to educating youth on healthy living, proper nutrition and maintaining bodyweight.
"I want to bring awareness to the obesity epidemic impacting our youth and families," Goode said. "I do not want anyone to go through what I have endured; being obese a majority of my life as a result of not knowing proper nutrition."
For more information please visit http://www.deonintervention.org
"Determined to Live"

By Lynette Ruffin Goode

Price: $ 11.99

ISBN: 978-1-4497-8787-5

Available at: Amazon, WestBow and Barnes and Noble online bookstores
About the Author

Lynette Ruffin Goode lives in Richmond, Virginia with her husband and daughter. She is a Motivational Speaker the Founder and CEO of a nonprofit 501(c)(3) organization called DEON Intervention Incorporated, which stands for Drugs, Education, Obesity and Nutrition. She has several degrees, which include a Bachelor of Science in Psychology, an Associate's Degree in Human Services and a Substance Abuse certification.