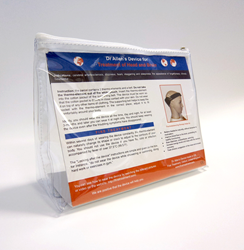 London, UK (PRWEB) September 19, 2014
Many people who experience headache and anxiety are treated with opioid-analgesic pain relievers, like hydrocodone, morphine, and oxycodone, however, 'the death rate caused by opioid-analgesic poisoning nearly quadrupled between 1999 and 2011,' states a recent article in the Wall Street OTC. At the same time, new Dr. Allen's Device for the Treatment of Head and Brain brings pain relief naturally by improving blood circulation at the capillary level, Fine Treatment reveals.
According to the article, 'Narcotic Painkillers overdose deaths rising at slower pace: CDC, in the Wall Street OTC,' dated September 17, 2014, The deaths from overdose of prescription painkiller have conventionally been high and the steadily rising number of cases since the 1990s has been a cause of big concern for the health experts and researchers.
The National Center for Health Statistics (NCHS) Data, released on September 2014, 'Drug-poisoning Deaths Involving Opioid Analgesics: United States, 1999–2011', states 'natural and semisynthetic opioid analgesics were involved in 2,749 deaths in 1999, whereas in 2011 they accounted for as many as 11,693 fatal overdoses. Another class of drugs – Benzodiazepines – saw a 13 percent rise in analgesic poisoning deaths, the report said. These drugs are used as sedatives in patients suffering from anxiety, insomnia and seizures.'
So, it is absolutely clear that people should try to avoid serious side effects caused by risky drugs, especially as new Dr. Allen's Device for the Treatment of Head and Brain provides a natural pain relief by enhancing blood circulation in the brain. It is designed as a soft bandage with small natural thermo-pads. No batteries or magnets are involved. When worn around the head over time, it provides a harmless treatment, which doesn't interfere with the user's activities.
"Patients with headache are more likely to have anxiety and depression that drastically hurts their quality of life. The easiest way to get rid of headache is taking opioid analgesics, like hydrocodone, morphine, and oxycodone, maybe for that reason they are widely prescribed," says Dr. Simon Allen. "Dr. Allen's Device for the Treatment of Head and Brain is recommended for people with headaches, depression and anxiety, as a natural powerful pain reliever, which is able to improve their quality of life."
For details, please visit Fine Treatment at http://finetreatment.com/brain-and-head-treatment/.
About Dr. Simon Allen and Fine Treatment:
Dr. Simon Allen, MD, PhD, Academician, member of the ATA, is a highly experienced medical professional. His specialty is in internal medicine. He has treated a wide range of chronic diseases, including patients after a heart attack, stroke, with kidneys problems, including kidney stones disease, prostate and spine conditions, as well as metabolic disorders.
Fine Treatment ensures international availability of Dr. Allen's Devices for the treatment of chronic prostatitis and BPH, coronary heart disease, for dissolving kidney stones, for a powerful relief of upper and lower back pain and sciatica, as well as for natural brain function support.