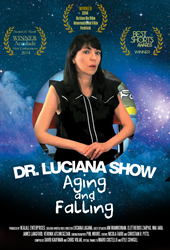 (PRWEB) October 30, 2014
CSU, Northridge Professor Luciana Lagana has won an honorable mention award for her 'Dr. Luciana Show – Aging and Falling' at this year's International Independent Film Awards. In this particular webisode, Dr. Luciana explores the many different ways seniors can prevent serious falls. In doing so, she talks to experts from the fields of kinesiology, chiropractic care, and martial arts and presents a list of techniques seniors can use to reduce the risk of life-threatening tumbles. "Because falling is the main cause of injuries in older age," said Dr. Luciana, "I am absolutely thrilled that a program of this nature has fared so well at film festivals – this being our fourth win."
Describing the Dr. Luciana show as independent film making at its best, International Independent Film Awards director William Johnson notes that the Dr. Luciana show "is impressive because it tackles important topics in a fun, creative and informative way." Information about the International Independent Film Awards and a list of recent winners can be found at http://www.iifilmawards.com/Awards.html.
At this point in time, Dr. Luciana has shot 16 5-minutes episodes, which are currently in post-production, and she estimates that the entire series will be available to the public in the winter of 2015. "I want seniors to be aware of all they can do to prevent dangerous falls," said Dr. Lagana. "And so I plan to make this series available to the public as soon as feasible."
Written by Kristyan Kouri

http://www.kristyankouri.com
Luciana Lagana is a caring clinical and experimental psychologist. She is also an established professor of psychology, gerontology, sexuality, and women's health at CSU, Northridge, where she teaches classes and mentors many students. Additionally, she conducts government-funded research on ethnically diverse, primarily low-income older women's physical, psychological, social, and sexual health. Concerning her artistic pursuits, since 2006, she has been studying acting and hosting in Los Angeles. She is an award-winning actress/screenwriter/director, with 43 IMDb credits for acting in many independent movies and TV series.