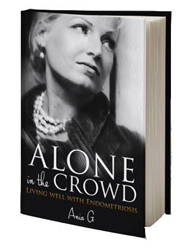 Seattle, WA (PRWEB) October 30, 2014
Endometriosis is a disease that impacts every aspect of a woman's life, from her health to her psychological well-being to her relationships. Unfortunately, statistics show that getting properly diagnosed with endometriosis is often a ten-year journey for its sufferers.
In her hope to raise awareness about living with endometriosis, endometriosis author, speaker, and psychologist Ania G. has written the upcoming endometriosis book 'Alone in the Crowd: Living Well with Endometriosis'. Recognizing that endometriosis is a disease that impacts 175 million women around the world, Ania G. will be translating her book into five languages: German, Russian, French, Polish, and Lithuanian. In order to do so, she is asking for help from the online community of people who believe that this message is one that is important to share through a Pubslush crowdfunding campaign.
Ania G. says, "In 2014, it does not make sense for a woman to have to wait 10 years for a diagnosis. This is too long, and these women are suffering." She highlights the emotional impact that endometriosis has on its sufferers, adding, "Many of them have a psychologist, because their families think they are crazy."
Ania G. believes that her mission to bring hope to these 175 million women is one that will stand out amongst other crowdfunding projects, which range from startup ventures to book launches to non-profit kickoffs. She says, "What makes this crowdfunding campaign so unique is the topic affects so many women globally. Famous celebrities like Susan Sarandon, Whoopi Goldberg, and Padma Lakshmi all suffer with endometriosis and have all shared their stories publicly." She adds, "Too many women suffer in pain and silence and have no idea what is wrong with them."
To contribute to Ania G.'s mission, please visit https://pubslush.com/project/3992
Ania G.
Surviving Chernobyl at age eight, Ania G. learned at age 24 she had Endometriosis. She is now on a mission to reach out to the 175 Million women globally who suffer from Endometriosis. Author, speaker, and psychologist Ania G. shares her story with her new book, Alone in the Crowd – Living Well with Endometriosis, which is being published by BEYOND PUBLISHING, in Las Vegas, Nevada and is currently being translated into German, Russian, French, Polish, and Lithuanian.
For more information, please visit http://www.anialive.com/