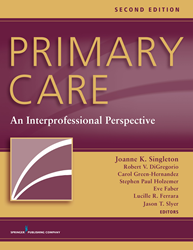 New York, NY (PRWEB) October 24, 2014
Springer Publishing Company, an innovative nursing, gerontology, psychology, social work, counseling, public health, and rehabilitation publisher, is proud to announce the release of the second edition of Primary Care: An Interprofessional Perspective, a state-of-the-art reference of interprofessional primary care in one easy-to-use resource.
Written and edited by advanced practice nurses (APNs), physicians, and pharmacists in a wide range of specialties, the new edition places greater emphasis on guidance for differential diagnosis and on interprofessional primary care, lifestyle management, health promotion, risk reduction, and prevention. The second edition also provides extensive coverage of: elderly and geriatric primary care; age, gender, and occupational considerations; palliative care; and evidence-based practice guidelines.
Editor-in-chief Joanne K. Singleton, PhD, MA, FNP-BC reports: "Primary Care continues to deliver the succinct, current, and integrated information that primary care providers need. The new edition expands its wealth of resources by offering a more complete approach to preventative care that goes beyond the provider's office, extending to the patient's complete lifestyle at any age. Interprofessional primary care providers, advanced practice MSN and DNP students, and primary care instructors will find the new edition to be an invaluable aid."
Margaret Zuccarini, Publisher, Nursing at Springer Publishing remarks: "We are thrilled to publish a new edition of this crucial resource. Primary Care, Second Edition gives providers the tools to not only diagnose and treat patients, but to advance better health in every aspect of patients' lives."
Primary Care, Second Edition distills and integrates required information from all areas of primary care, so readers will find all the information they need in one easy-to-use resource. It presents current diagnostic criteria for each condition and includes relevant anatomy, pathology, and physiology. Epidemiology of the condition, including cultural and economic factors, is included as is prevention, risk identification, and screening. Also covered are related laboratory studies, physical exams, wellness coaching, treatment options, potential pitfalls, and much more. Additionally, the book includes clinical "pearls," references, and chapter review by experts in each field.
Primary Care, Second Edition is co-edited by: Robert V. DiGregorio PharmD, BCACP; Carol Green-Hernandez, PhD, ARNP, FNP-BC, FNS; and Stephen Paul Holzemer, PhD, MSN, with associate editors Eve Faber, MD, Lucille Ferrara, EdD, MS, MBA, FNP-BC and Jason Slyer, DNP, RN, FNP-BC, CHFN.
New to the Second Edition:

Increased focus on interprofessional primary care, including community care, team work, and wellness coaching
Strong guidance on differential diagnosis
Broader team of interprofessional authors and editors
Emphasis on lifestyle management, health promotion, risk reduction, and disease prevention
Special focus on elder/geriatric primary care and palliative care
Evidence-based practice guidelines
Focus on age, gender, and occupational considerations
About Springer Publishing Company
A pioneer in health care and social science publishing, Springer Publishing Company is known as an innovative nursing, public health, psychology, rehabilitation, social work, counseling, and gerontology publisher. The company has won numerous awards, including the American Library Association (ALA) Choice Awards, the Association of American Publishers (AAP) PROSE Awards, and the American Journal of Nursing (AJN) Book of the Year Awards, and publishes more than 100 top quality titles annually, all available as eBooks, in addition to 21 journals. From nursing to psychology, Springer Publishing Company is passionate about providing the best professional books, textbooks, guides, and reference works to professionals, instructors, and students. For more information, visit http://www.springerpub.com.