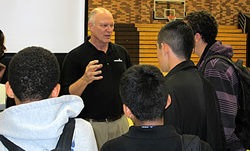 (PRWEB) October 23, 2014
Narconon centers around the world are known for their activities to teach young people about the dangers of drug abuse, but when October and National Substance Abuse Prevention Month roll around, outreach efforts in the U.S. increase even more. In Louisiana, the staff at Narconon New Life Retreat set up a booth at the Livingston Parish street fair to hand out drug education materials. They also invited kids from the community to sign a drug-free pledge. Approximately 300 children accepted, signing their names to a large placard in the booth. Booklets detailing the problems associated with drug use and educational DVDs were also handed out to teachers and parents.
In Southern California, a very active drug prevention schedule runs all year round, but for this special month, this schedule was increased. By the third week of the month, the team was on target to reach 10,000 children.
"The welcome our drug prevention specialists received was enthusiastic in both these locations," said Clark Carr, the president of Narconon International. "At the street fair, our staff were visited by political candidates, a local pastor and the leader of a youth group. In Southern California, our drug education specialists are invited back again and again. Many people realize how serious the drug problem is and appreciate our efforts to get young people to commit to a drug-free life."
Across Southern California, staff from Narconon Fresh Start visited schools to deliver modules from the Narconon drug prevention curriculum. The feedback surveys from the youth provided evidence that the message was getting through.
"We tabulate the results of every feedback survey we receive," said Tony Bylsma, the director of drug education for Narconon Fresh Start. "Eighty percent of our students say they have learned new information about drugs and about half say that this information changed the way they think about drug use. Nearly all of them feel they can put this information to good use, either for themselves or their friends."
"The welcome we receive from youth and community members is proof that our drug prevention outreach is vitally important," said Carr. "Helping young people grow up sober and successful is one of our biggest motivations across our network of rehabilitation and prevention centers."
Around the world, there are more than 100 Narconon rehab and education centers. The Narconon rehab program is a long-term residential program founded by William Benitez, that utilizes the humanitarian works of American author L. Ron Hubbard in its recovery steps. For more information on the drug rehab program of Narconon or the drug prevention curriculum, call 1-800-775-8750.