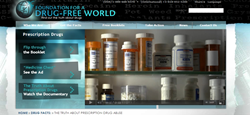 (PRWEB) November 07, 2014
There is a human tragedy playing out in emergency rooms in cities across America—a tragedy all the more heartbreaking because it is so unnecessary.
A study released October 27 in Journal of the American Medical Association (JAMA) Internal Medicine found 67.8 percent of hospital emergency department visits for overdose in 2010 were caused by prescription opioid abuse. The Los Angeles Times points out that painkiller overdose fatalities have surpassed traffic accidents as the cause of death. And a recent Journal of Child & Adolescent Substance Abuse study found 12 percent of the boys and eight percent of the girls surveyed admitted to having abused this kind of medication. By survey, almost 50 percent of teens believe that taking prescription drugs is much safer than using illegal street drugs.
Described by the US Centers for Disease Control and Prevention as "an epidemic," clearly opioid abuse is a critical social problem in need of effective solution.
As the White House Office of National Control Policy points out, drug education and prevention is "the most cost-effective, common-sense approach to promoting safe and healthy communities." The simplest and most direct solution to the problem is getting to youth with factual data before they begin to abuse these drugs.
Enter The Truth About Drugs—Real People, Real Stories documentary.

The film is a collage of frank and compelling filmed interviews with former addicts who describe how they began abusing, and the effect these drugs had on their lives:


    "I had no idea [these drugs] were addictive until the morning I woke up and I was freaking out …."
    "Within a week or two I was taking them morning, afternoon and night and needed them to function."
    "You're spending $ 300 or $ 400 dollars a day just to get by."
    "No one told me that it was addictive. No one told me about the side effects."
    "It makes your life a hell on Earth eventually."
In creating the film, director Gary Ravenscroft interviewed more than 100 former drug addicts who had been on various drugs. "I found there were only a few reasons they all had for starting to take drugs: boredom, group pressure, and, the main one, ignorance of the effects of the drugs themselves. Nearly every former addict told us that if they had known how dealers and their so-called friends were lying and what these drugs would do, they would not have taken them."
For more information on the Truth About Drugs drug education and prevention initiative visit the Scientology website.
The Church of Scientology supports The Truth About Drugs drug education and prevention initiative. To make this and the other humanitarian and social betterment initiatives it supports even more broadly available, the Church of Scientology has published a new brochure, Voice for Humanity—Real Help, Real Results.